When we think of, or see, a bee in our midst our first response is generally NOT one of gratitude! It's one of fear! And if we happen to be allergic to the bee's venom, it is outright panic! But I'm here to give you a reason to nod your head in appreciation at the bee next time you come across the tiny, menacing creature. And that reason is raw, unfiltered honey!
Who should be cautious when consuming honey?
Before we discuss the innumerable documented benefits of raw, unfiltered honey, let's discuss who should NOT consume honey (Attention diabetics: before you think I am talking to you, read on and be pleasantly surprised!).
Infants younger than 20 months
Most pediatricians will warn against giving babies honey due to the potential presence of clostridium botulinum. Babies tend to have more immature immune systems and underdeveloped protective gastrointestinal microorganisms (the "good" bacteria that colonizes our intestinal tracts), so clostridium has a greater chance of colonizing in the "gut". (1)
People with FM (Fructose Malabsorption)
Some people have what's called Fructose Malabsorption, previously known as DFI (Dietary Fructose Intolerance), which is characterized by symptoms such as abdominal pain, diarrhea and gas. My suggestion to people who know they have this condition is to skip this nutritive substance, as there are many other ways to increase your health and nutrient status. If you are not sure, maybe try a little honey on an empty stomach and see what happens, and then increase your intake as wanted.
People with high blood sugar or type 2 diabetes
If you have been advised to decrease your sugar or fructose intake, consider both sides of the data (discussed below) before deciding to skip the nutritious benefits of honey!
The Benefits of Raw, Unfiltered Honey
1. Honey Lowers Blood Sugar
According to a report published in the International Journal of Biological Science, Honey – A Novel Antidiabetic Agent, "…various studies revealed that honey reduced blood glucose or was more tolerable than most common sugars or sweeteners." (2)   The report goes on to state that there is an overwhelming amount of evidence showing that honey has an antioxidative effect on the pancreas (the organ responsible for blood sugar regulation), the kidney and the liver.
2. Honey is Healing for the Digestive System
Honey has been found to inhibit the growth of Helicobacter Pylori bacterium (2), the bacteria found in recent years to be responsible for the formation of gastric and duodenal ulcers. Honey has also be found to allow for enhanced colonization of the intestinal tract with healthy microorganisms (good bacteria and yeast).   Recent research has found that a healthy gut microbiota (microbial environment) is responsible for the proper functioning of certain systemic organs such as the liver and the brain (2). Furthermore, a link has been discovered between an unhealthy gut microbiota and insulin-resistance (back to that blood sugar regulation again!).
But which beneficial bacteria were positively augmented by honey? According to the report:
The effect of honey on beneficial or non-pathogenic gut microorganisms is well documented. Evidence from in vitro and in vivo studies has shown that honey markedly increased the number of Lactobacillus (L. acidophilus and L. plantarum) counts. Honey was also reported to enhance the growth of Lactobacillus acidophilus, Bifidobacterium bifidum, Streptococcus thermophilus and Lactobacillus delbrukeii sub. sp. bulgaricus. The study also showed that honey enhanced lactic acid production. The fact that the effect of honey on these microbes was comparable to that of fructose or sucrose implies that the sugar constituents of honey might contribute to the prebiotic effect of honey. Similarly, a study that investigated the effect of honey (5% w/v) on five different species of human intestinal Bifidobacterium (B. longum, B. adolescentis, B. breve, B. bifidum and B. infantis) revealed that honey considerably augmented the growth of these bacteria.
3. Honey Can Inhibit a Cough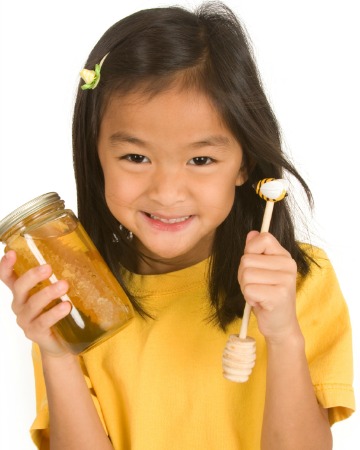 While there are several papers published which show evidence that honey has a beneficial effect on cough, the one I find most interesting reports an increased effect of honey on cough over and above the use of dextromethorphane (a cough suppressant) or diphenhydramine (an antihistamine). In A comparison of the effect of honey, dextromethorphane, and diphenhydramine on nightly cough and sleep quality in children and their parents, a clinical paper published in the Journal of Alternaitive and Completmentary Medicine, it was reported that "…receiving a 2.5-mL dose of honey before sleep has a more alleviating effect on URIs-induced cough (upper respiratory infection) compared with DM (dextromethorphane) and DPH (diphenhydramine) doses". (3)
4. Honey has antibacterial, antiviral and antifungal properties
Honey has been used since ancient times as a wound-dressing due to its antimicrobial effects and its ability to keep wounds moist. But now we know a little more about which types of pathogens honey can inhibit. In fact, in 2007 the FDA approved a product called "Medihoney", a product made from manuka honey from New Zealand, for use in wound healing. And according to the journal report, Honey in the Prevention and Treatment of Infection in the CKD Population: A Narrative Review, published in the journal, Evidence Based Complementary and Alternative Medicine:
Unlike conventional antibiotics, honey has broad-spectrum antimicrobial activity against viruses, bacteria (including mycobacteria and MRO such as vancomycin-resistant enterococci (VRE) and methicillin-resistant S. aureus (MRSA)), and fungi. The effectiveness of honey against multidrug resistant strains of bacteria is promising, especially in renal patients in whom MRSA is one of the major causes of infections. More importantly, repetitive exposures to honey were not associated with antibiotic resistance in bacteria, as its activity does not target the growth of specific organisms but rather is a product of multiple mechanisms. (4)
Basically, this means that honey does not develop antibiotic resistance, it is broad-spectrum (can inhibit many different types of pathogens), and targets viruses (which antibiotics cannot target). Furthermore, honey will not destroy the healthy microbiota in our guts the way most antibiotics can, and will actually enhance the microbiotal environment! It's an all-around winner for microbial infections, in my book!
5. May Reduce Suffering from Allergies
While heavily debated and not necessarily proven, it's worth mentioning here that some claim a relief from their seasonal allergies when they consume local, raw unfiltered honey. The theory behind the use of honey for allergy alleviation is somewhat homeopathic in nature: by being exposed to small amounts of local pollen your body should become desensitized to environmental exposure of this pollen. Like, cures like. However, this will only potentially help with pollen sensitivities to the flowers that bees frequent.
How to Purchase and Use Raw, Unfiltered Honey
As mentioned above, it is beneficial to purchase local honey (honey produced within 20 miles from your home) if you are going for allergy alleviation. If you have access to Manuka Honey, this may be the best buy due to the research which backs its antimicrobial benefits. But research backs regular raw, unfiltered honey, too. So, mostly you want to look out for honey which is dark and cloudy (indicating it has not been filtered). Take a teaspoon or two per day. Some people will avoid heating the honey so that its benefits are not reduced. Others will take honey with apple cider vinegar (an alkalizing combination) or lemon water (a detox and electrolyte beverage…my recipe can be found in my holiday detox post).
So the next time you head to your local health food store, consider purchasing raw, unfiltered honey as a healthy natural sweetener. Your body (and especially your taste buds) will thank you!
(1) www.ncbi.nlm.nih.gov/pmc/articles/PMC273008
(2) http://www.ncbi.nlm.nih.gov/pmc/articles/PMC3399220/
(3) http://www.ncbi.nlm.nih.gov/pubmed/20618098
(4) http://www.ncbi.nlm.nih.gov/pmc/articles/PMC4488250/

Follow Stephanie!